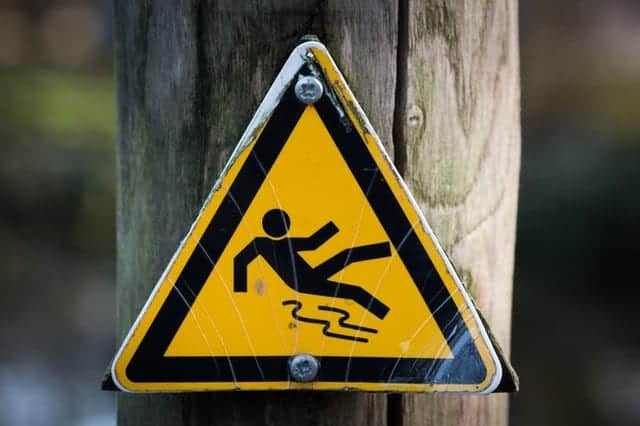 The hidden costs of your slip and fall you might not have considered
December 16, 2019 by GKwriter
Property owners have a responsibility to keep their property safe. When you suffer a slip and fall due to negligence or poor care on the owner's behalf, you have a right to seek damages for your injuries. Working with a Virginia personal injury attorney is the best way to ensure you protect your rights.
Medical bills are the most obvious damages associated with slip and fall situations, but there are many other costs you might not have considered for your slip and fall. In fact, on average, victims of a slip and fall miss 11 days of work, which can be a serious burden for victims as they work to regain their physical and financial wellbeing.
Defining a slip and fall case
Slip and fall hazards can take many forms. If you're questioning whether or not you have a slip and fall case, the best thing to do is to talk to a slip and fall personal injury attorney. Here are some common hazards that can be situations where you can seek damages with a personal injury lawsuit.
Cracks in the sidewalk
Spills on the floor
Unstable chairs
Poor lighting
Uncleared snow and ice
Clutter on the floor, such as a napkin or silverware
For a case to take place for a personal injury claim, the owner must have omitted their responsibility to keep patrons or visitors safe. Property owners have a duty of care to remove all hazards from their premises. When they fail to meet these safety standards, the victims of such accidents can seek financial damages.
Hidden costs of slip and fall accidents
Slip and fall accidents, much like any other personal injury case, have many hidden costs that victims may or may not consider when negotiating compensation. That's just one reason why hiring an attorney is in the best interest of a slip and fall victim.
While reimbursement for medical bills after a slip and fall case might seem obvious, there are many hidden costs of slip and fall accidents that victims overlook.
Missed work
Loss of future income for those with permanent injuries
Pain and suffering
Costs associated with traveling to medical appointments
How to handle a slip and fall situation
When you're injured on someone else's property, it's likely that employees or the owner will rush to you after your accident. These individuals might try to get you to admit fault for the accident or state that you were not injured in the fall to protect themselves from a claim later on.
Be very careful what you say following a slip and fall accident. No matter how you feel or what you think happened, don't make any statements. If you talk with the property owner's insurance company following the accident, you should have your attorney present.
There are many tactics that insurance companies use to try and get a victim to say the wrong things. In some cases, these traps can leave you on the hook for your medical bills if phone calls are recorded or documented in some way that the property owner can show in court.
You should not discuss the case with anyone aside from your attorney while it is still outstanding. Your friends and family could be required to take the stand as a witness in the case, in which everything what you've shared can be divulged in court and could hurt your chances of receiving compensation for your injuries.
Seeking counsel immediately following an accident is very wise as an attorney can walk you through the process of filing a claim and advise you on what to say and who to speak with.
Gore and Kuperman Virginia slip and fall attorneys
With more than three decades of experience representing slip and fall accident victims, Gore & Kuperman is the premier law firm for handling your personal injury case. Our attorneys are compassionate in working with our clients and relentless in our mission to seek justice.
We'll get you the compensation you deserve so that you can go back to living your best life without the financial burdens that can be associated with such accidents. Our attorneys have obtained compensation for many clients and are prepared to do the same for you. Contact us at 703-385-7300 to start the discussion.
LEGAL DISCLAIMER
The comments, posts, content, articles and any other material (the "Content") viewed on this website are for informational purposes only and not for the purpose of providing legal advice. The Content should not be used as a substitute for legal advice, nor should anything read in the Content be considered as advice equal to that of an attorney. You should contact your attorney to obtain legal advice based on the specific facts surrounding your unique situation or problem.