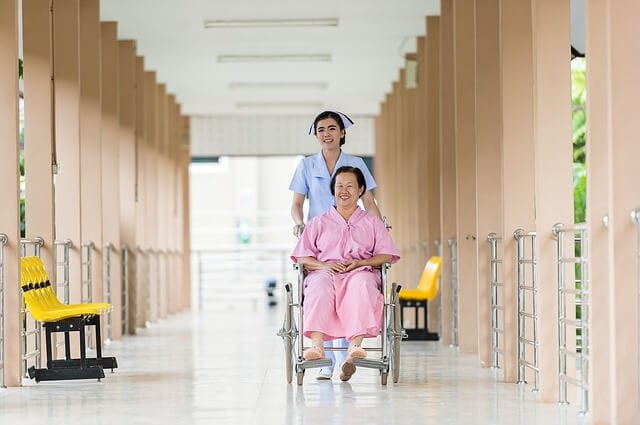 Protect your elderly loved ones by consulting a Nursing Home Lawyer
January 28, 2018 by GKwriter
You may be in need of a nursing home lawyer today if your loved one is experiencing improper care in their nursing home facility.
Nursing homes are a nice option for those who cannot stay home and take care of an elderly family member on a full-time basis. Facilities like these are a place where elderly individuals can go about their lives and be taken care of by paid caretakers. However, there are times when elderly individuals go to these types of facilities and are a neglected. In some cases, this neglect can amount to harm against the elderly and amount to abuse.
When this happens, it may be up to you to seek out legal assistance for the abused, elderly individual. Often times, these victims of abuse may not have the mental awareness to realize they are being abused or do not have the mental capacity to sort out a means of rescuing themselves from the abuse. This is where your assistance is crucial.
Under these circumstances, the behavior of the nursing home might neglectful or abusive enough to call for a lawsuit:
If the nursing home is not reasonably safe or free of hazards

The employees that are hired as caretakers are not reasonably suited to fill this role

The employees are not supervised adequately, enough so that the lack of supervision is considered negligent

If the nursing home fails to implement and follow certain health and safety policies

If the nursing home is negligent in the medical treatment being provided
If you believe a loved one is experiencing any one of these situations in their current nursing home, now is the time to act. Reach out to an experienced nursing home lawyer in your state and explore your legal recourse options.
At our office, clients are encouraged to discuss options to punish nursing homes that might be failing to maintain the legal standard of care over their elderly loved ones. If these loved ones are relying on the caretakers at a negligently staffed and maintained facility, it is tough to sleep at night knowing they are not receiving the appropriate care you might be paying for. A nursing home lawyer with plenty of experience should be your top priority when approaching this type of case.
If you find yourself in one of the described situations, call our office today to schedule your free consultation with one of our experienced nursing home lawyers today!
What will a Nursing Home Lawyer cost me?
In general, the cost of any legal matter will depend on how far in the legal process the matter progresses. For nursing home cases, we are often able to work on a contingency basis to make sure you are able to proceed without the stress of cash down up front.
What is so great about Gore and Kuperman?  
Attorneys Mark Gore and Boris Kuperman ensure the highest level of legal representation by always putting forth their best efforts no matter how bleak the situation might appear. In addition, we offer years of successful representation when it comes to nursing home cases.
When do I need to call a Nursing Home lawyer?
In general, your interests are best served by contacting a nursing home lawyer as soon as you suspect your elderly loved one might be experiencing neglect or abuse. If you are unsure whether your incident amounts to the level of needing an attorney, play it safe and schedule a risk-free, no-cost consultation with one of our attorneys to give yourself some peace of mind.
Do I need to come into the office or during working hours?
We generally advise potential clients that their first attempt to contact our office should be made during office hours. By calling our office between the hours of 9 AM and 5 PM Monday – Friday, you will increase your chances of speaking to our receptionist and getting set up with an appointment for an in-person consultation with one of our attorneys.
Have Gore and Kuperman done this before?
The attorneys at Gore and Kuperman have many years of combined experience working with clients that are victims of nursing home neglect and abuse and are in need of legal representation. Due to this, you will not be presenting a case to our attorneys that they would not be comfortable handling. No matter the facts or level of stress you are feeling, you can rest easy knowing that our attorneys will know the best route to follow to efficiently manage your case.
LEGAL DISCLAIMER
The comments, posts, content, articles and any other material (the "Content") viewed on this website are for informational purposes only and not for the purpose of providing legal advice. The Content should not be used as a substitute for legal advice, nor should anything read in the Content be considered as advice equal to that of an attorney. You should contact your attorney to obtain legal advice based on the specific facts surrounding your unique situation or problem.